There are some common misconceptions about the real estate market in Auckland at the moment; one in particular that auction success rates haven't been as good as they were. Well, we're on the frontlines of the market every day, and we're here to set the record straight! We've sold 81 out of 90 auctions in the first quarter of 2021 – that's a whopping 90% success rate!
If you compare that to the success rates of some of our competitors sitting at around 55%, what makes our results so starkly different? Don't worry, We'll get into that! But first, let's talk about the sentiment in the market at the moment.
Vendors need reassurance that success rates are still climbing
Off the back of a turbulent year for most people professionally and personally, it's understandable that vendors might be feeling a little bit unsettled, and that the buyer feeding frenzy has calmed down. Another common feeling is that an adjustment in property values might be on the horizon, so maybe now is a good time to sell.
With over 33 years in the game, Ray White Austar Realty's Principal Officer Len Day has some valuable insights into the current market.

"Now is a great time to sell. We're still achieving phenomenal results where vendors are getting $100,000's over their expectations!" Len Day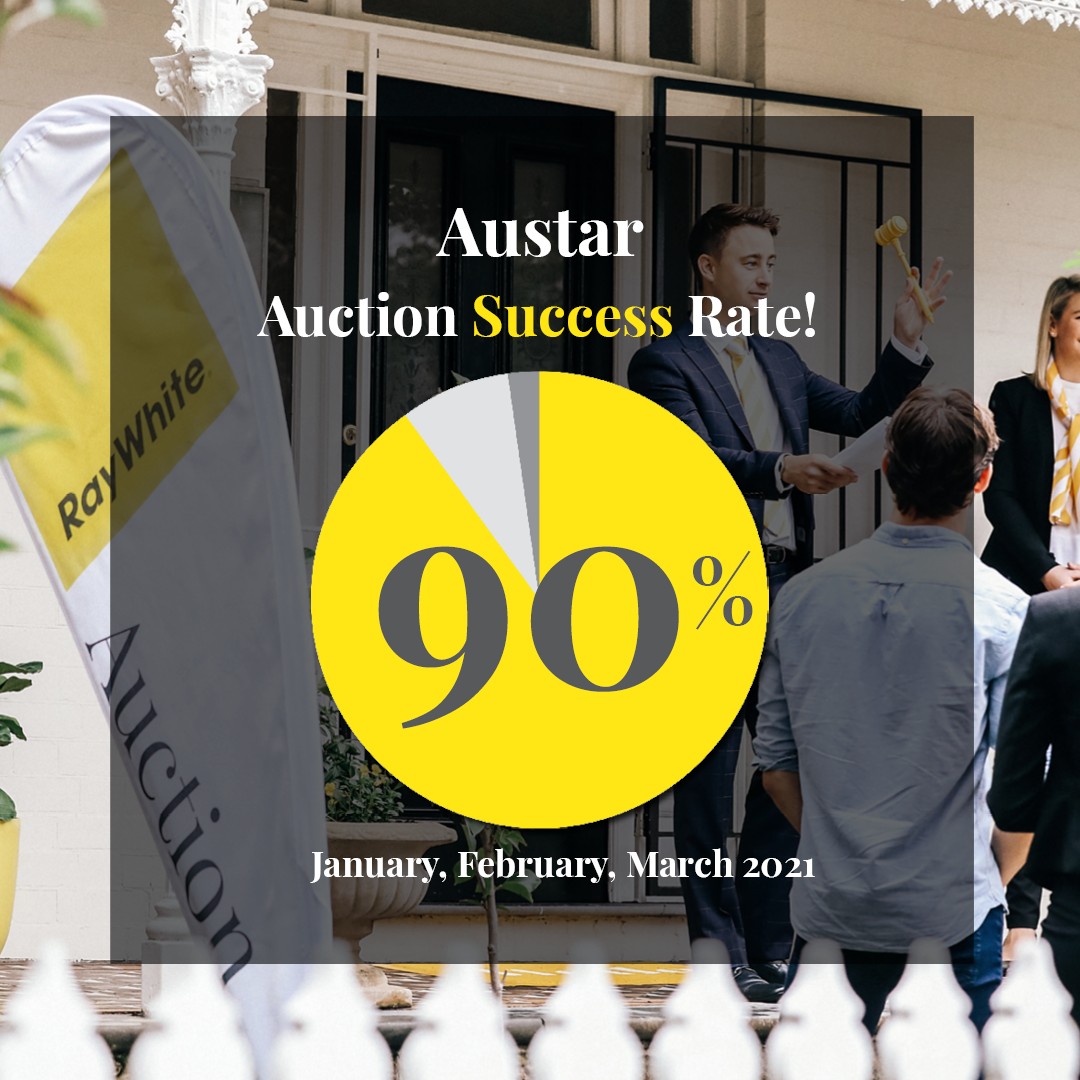 Investors are digesting the market shift
Understandably, investors are being cautious at the moment. They're 'taking a breath' and letting the dust settle on all the changes to their lives over the past 12 months. People might be considering other investment options, but we're confident they're returning to the market, because there still aren't as many options that can offer as much capital growth as real estate does in Auckland.

It's not about the market; it's all about expertise
We know anyone can sell a house easily and quickly in this Auckland market, but it takes lots of skill and expertise to do it when the market changes; even slightly.
"We truly believe Ray White Austar's success rate is due to the fact that we put so much training into our sales people, and we have an expectation on what they should deliver to our clients, especially with auctions." Len Day

Len has built his team of real estate professionals around empathy and understanding for the people entrusting us with selling their most valuable asset, and that's a responsibility the Ray White Austar team takes very seriously.
"The biggest complaint I've experienced is from vendors saying they don't get good, honest feedback from the market. Vendors are having to make some of the biggest decisions in their lives when selling their home. It can be so easy to make a poor decision when you haven't had feedback at all, like some of our competitors' clients tell us. We demand written reports and face to face meetings with our clients during the campaign, which is the most important influence on our phenomenal results." Len Day
The Ray White Austar success rate will become more and more evident as the year rolls on. No matter what happens in the market, people will still need to buy and sell homes. We're always determined to make that experience the best it can be, and you can rely on our team of highly skilled professionals to exceed expectations in every facet of the sale and purchase process.